What is new on the Horizon for Technology
at Elkin City Schools?
More information coming soon...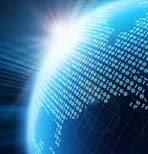 Welcome
Welcome to the new Elkin City Schools Technology Department Web site. Here you will be able to find information about the department and the services we provide.

Vision
Elkin City Schools, in partnership with students, families, and the community, will provide excellent educational opportunities that encourage lifelong learning and responsible citizenship.
ECS realizes that technology is changing rapidly. It enhances our lives and provides resources that were unknown previously. Click here for more information ....